Posted by fxckfeelings on August 21, 2015
Share This Post
Back-to-school time can bring emotional issues bubbling up to the surface as personality conflicts and intense power dynamics pop up and throw you and your family off-kilter.
Here are five all-too-common back-to-school issues and our advice for dealing with them.
1) Your Kid Hates His Teacher
It's terrible to imagine your child feeling miserable for an entire school year, but as your kid's number one teacher (tenured in perpetuity), you're the one to help him manage frustrations and make the best of them. So take time, gather facts, and see if there's something you can do to improve teacher-child communication or their attitudes towards one another, or have a positive talk with the principal about finding a better match for your son. Otherwise, do your best to teach him that learning is more important than any single teacher, that surviving the year is more important than showing your teacher he can't get away with being a jerk, and that he can get through tough times like these with his family's support.
2) You Hate His Teacher
Of course, if you hate your kid's teacher as much as he does then you can at least validate his views, although it will take a lot more discipline and self-restraint to get through the year. If your kid is fine with his teacher but you aren't, then you're stuck keeping your feelings to yourself, at least at home. You could try having another positive pow-wow with the principal, listing reasons why a different match would be more successful. If your kid seems happy in the class, however, then you're probably better off following common logic and avoiding the principal's office entirely. If your kid can survive a year with this jerk, so can you.
3) You Hate The Other Parents
If you don't like the values or characters of other parents in your neighborhood—and, given how passionate some parents can be about their specific choices and yours, this is not an uncommon scenario—school can be more alienating for you than for your kid. Your job is to keep your frustration to yourself and help him feel he belongs in class, whether or not you feel you belong. Your hope is that the kids are better than their parents and that your kid will find friends he likes in his class, even if you can't.
4) The Other Kids Hate Your Kid
If your child is being picked on, definitely try to work with the school and other parents to stop bullying, but be prepared to get a lot of defensive responses because no parent wants to admit that they've spawned a bully and schools often lack the resources to really tackle the problem. Coach your child on how to handle bullies or just avoid them, but be sure to let your child know that you think he's fine, even if he's a social outcast for the time being. There may currently be no friends at school, but there are always friends at home.
5) You Hate Your Kid
Every parent fears having a kid s/he really doesn't like, so commend yourself on surviving this living nightmare. You can see a therapist or ask yourself whether you're overly irritable with everyone and need to improve your behavior and/or try medication for improving your mood, but if the answer is that it's just your kid that's a jerk, then you're stuck. So if you're burdened with unavoidable negative feelings, build up your ability to be a true professional, regardless of how you feel. Teachers have to spend huge amounts of time with kids they hate, so you can, too.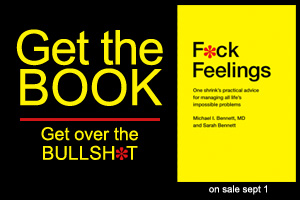 More advice from Dr. Lastname